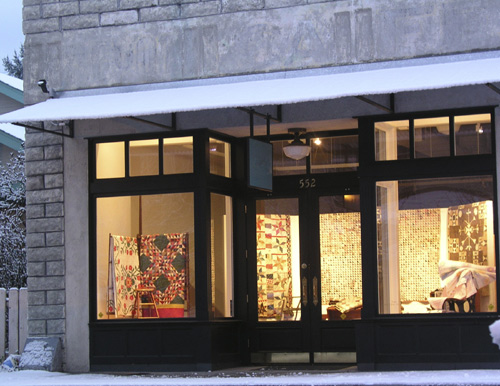 Fourth Corner's fine quilts span the century from the 1840's to the 1940's. The gallery stocks hundreds of exquisite quilts, from faded beauties for the bed, to museum-quality masterpieces for the most discerning collector.
The gallery is found in the heart of Ashland's Historic Railroad District, just away from the bustle of a charmed little crook of A & Fourth Streets that has nurtured Ashland's finest collection of galleries and working art studios. Legions of discerning art-lovers flock to our deservedly-adored neighbors: Davis & Cline Gallery, Etienne Gallery, Bohemia Gallery & Framing, Illahe Studios & Gallery, Gallerie Karon, Studio A.B and Jega Gallery & Sculpture Garden. Also just steps away are the historic Peerless Hotel, award-winning Peerless Restaurant and now The Palace Cafe & Charcuterie. If you are looking for one of Ashland's sweetest B&B's or guest houses, conveniently located in its finest neighborhood, you still face a tough choice. Our own favorites include Pelton House Bed & Breakfast, Ashland Auberge Guest House, Ashland's Black Swan Inn and Oak Street Station Bed & Breakfast; each a consistently sumptuous place to pamper yourself, in addition to thoughtfully remaining within a stone's throw of both OSF and Fourth Corner.
The little gallery showroom is tucked away in an out-of-the-way spot, between Fourth & Fifth Streets. You will find easy parking in the vicinity and the gallery is a pleasant 7 block walk from the OSF bricks.
The gallery showroom is currently available by prior appointment. So, please, feel free to drop us a line as you finalize your travel plans and we'll help arrange a visit and explain how to find the shop!